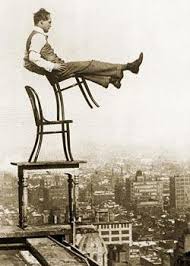 For the last forty three years, since my car crash and month long coma, I have essentially been performing one big balancing act. Over this time I have learned what it takes to maintain my balance on the brain injury high wire; balancing what I used to be, what I was becoming, what I thought I was and my new reality in order to build a life that works.
I will be balancing for the rest of my life, balancing on a straight and narrow line so I can continue to live my life and move forward.
I have learned that staying balanced requires that I remain focused on the big picture and not get caught up in momentary wishes and desires, dreams of what could have been, or on day to day events. I can't let myself get either too low or get too excited. I have to just be the way I am.
I would love to live my life being footloose and carefree, but "staying balanced" means that is not going to happen. Instead, I keep myself in check and in control, a little bound up and tense as I discover what I am now all about; always preparing for what could happen.
That is my reality since my accident; though I am positive and forward looking, I have a persistent tug in the back of my mind, a slight nagging feeling telling me that I have to be careful and watch out.
Strength
I have been fighting the brain injury wars; minute by minute and breath by breath, for a long time. For forty three years my life has been chock full of one battle or another, and it is draining, but it is important to stay vigilant as I stay in the present and in reality. I can't let visions of what life used to be like bog me down. Nor can I dream beyond my capabilities.
I have now arrived at a place where I am at peace with my life, but that doesn't mean I have won the war. I would never say I vanquished my brain injury. Rather, I will say I found a way to survive by maintaining my balance.
So that is what I take away from this: it's all about balance and staying on the straight and narrow.  Balancing on that fine line means we don't get distracted, don't let our minds wander, and we find a way to stay strong, to persevere and quietly stay confident; we do what we have to, not because we want to, but because it is our job.
Walking on that Line
Over the years, through my own experience and the experiences of others, I have come to appreciate the fragility of my life and I have learned about the strength I have. I marvel at my life; not just the idea that my life can change in an instant, but also the idea that I have the power to maintain balance and direct my life, even when I feel out-of-control. I have found the strength and power to fight distractions, stay focused, and set the tone and direction for my life; as well as the power to not let myself be affected by the things happening around me that could throw my balance off.
When I think back on my life, I credit my success on my ability to stay balanced; to stay away from the highs and lows,  to not let the fear win, and to focus on the little things. I am still amazed that I didn't snap; or that I didn't lose my balance and fall off that cliff or lose my sanity. What kept me sane? I think back to certain situations, especially when I was alone with my wild thoughts, with my worries and my fears; balancing on that fine line between normal and crazy, and how I was saved by vigilance and balance.
Staying in control and balanced was a great goal to have.
Victory? 
I will never claim victory in the war with my brain injury; that would be egotistical and wrong. I have learned that it's not necessary to yell, "I've won," in order to be victorious. Claiming victory would disrupt my balance, and pumping my chest and yelling would interfere with the learning of important lessons one discovers when one is humble.
I have done the best I can and have built a life I can be proud of.
Yes. By learning to be balanced I have found what powers me, and it's something we all have. I have found the power to block out distractions, fight my fears, stay focused and persevere. Being balanced may not be the most fun, but it is what has enabled me to get to "this place".
As I said earlier, I know "this place" is fragile, and as good as I might feel right now, I have to remember all that stuff from my past is buried somewhere in me, waiting to jump out and make me unbalanced. I live right on the edge and I always will.
That is why maintaining my balance is essential.