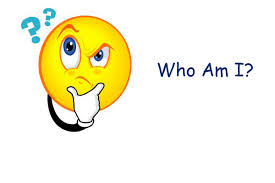 One of the things that we survivors speak about fairly often is that we don't know who we are any more.In other words, we've lost that all-important sense of self.
So many things change so dramatically after TBI: not only the skills and abilities we used to have, which is the first thing we often think of, but also things like the awareness and
judgement we always could count on. The many changes all have a trickle down effect, and taken together, steal our self image and our identity.
Knowing the answer to the question, "Who am I?" is fundamental to our state of mind and our general sense of well-being. This is not only because knowing who we are make us feel settled and comfortable in our own skin, but also because knowing who we are helps determine how we behave and how we use the tools we have. You could make a case for the idea that knowing "Who we are," not only plays a large role in our behavior, but also helps determine how successful we ultimately are at what we undertake.
What do I mean by "sense of self"?
It would help if I were to break "sense of self" down into components so it's easier to discover "Who we are." There are several things that make up our sense of self.
Among them are factors such as race and sex, our past, how we feel about and relate to the future, and something I think is very important, the answer to the question, "What do I stand for?", which takes into account our values and morals and basically, why we do the things we do.
Let's take a closer look at these:
Although a TBI may not directly impact our race or sex, it certainly has a large impact on how we view ourselves and how we function in society.
After a TBI we lose our past, in that even if we can remember what happened to us before our TBI, we lose all connection to it because we cannot relate to it as having happened to us. When we lose or past, we lose the experiences and accomplishments which have been built up over the years that made us who we were.
We rely on  a couple of things to be able to plan and relate to the future: what happened in our         past, in terms of our experiences and how the past predicts the future, and on our skills and abilities.  Both of these have been impacted by our TBI, making it hard to see, predict or strive for a future.
Our lack of knowledge about our new selves impacts how we perform and feel about things, making it difficult to determine "what you stand for."
All is not Lost
Okay, so we've established what our sense of self is and what it means to have lost it, now how the hell do we get it back?
First, let me say that your sense of self isn't just going to fall in your lap. Neither will you be walking down the street one day and just happen to pass it on sidewalk, like it was an old college friend. You are not going to find your sense of self as though it was the car keys you misplaced.
You are going to determine your sense of self by working hard and saying attention.
Determine? Yes, you play a role in determining your sense of self.
Regaining your sense of self takes time, work and dedication. It's really no different than going to physical therapy on Thursdays, or Mondays, or whenever you go.
You need to put a stake in the ground. For me, placing that stake meant adopting four standards to follow at a time when I was very confused about where I was going.  These were four standards I could use as a foundation and base my personhood on. They were: 1) Be honest, 2) Be trustworthy, 3) Be respectful and 4) Don't quit.  To these I added that I was always going to be doing things for the right reasons.
They were my foundation.  I knew couldn't go wrong with these four standards.  They were something I could base my personality on and grow with.
Now that's a start
Through the years I added things.  I wanted to be someone other people could depend on: I wanted to be dependable. I started small by being early for everything I had to do.  I wanted others to feel as though they could count on me and include me. Being early is such a small thing, but it says so much to other people. It has such meaning: that you are respectful of others and are serious about being of service in any way you can.
Add it up
Over some period of time you collect the experiences and knowledge that enable you to become the person you know and want to be, but only by first putting a stake in the ground and then making  the effort. You must start by being something. Make that something you are proud of and that enables you to use the tools you have the best way you can.
Thanks, Jeff