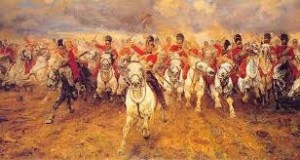 About 35 years ago I was talking to a friend of mine who had done two tours of duty in Vietnam. He said to me that I had been through a war on account of my brain injury. I was blown away, hearing it from him. I listened, and trusted what he said, knowing he had first hand experience with a brain injury, having been injured in combat.
He was right.  This is a war, in a sense, and it's being fought nearly every minute of every day. This is a war for our lives; a war to recapture our pride and then our independence.
We are out there every day fighting the battle so we can be successful, feel good about ourselves, and so that we can be proud of ourselves and feel  independent. Although some of us may be able to perform the daily tasks that allow us to live independently, we don't always feel independent because we lose the ability to function as a self-reliant human being in society.
We lose the pride and the self confidence we need to enable us able to function in our daily lives, and this hampers our drive to feel independent. Even the subtle, and what others might call "minor", effects of a brain injury can take away our ability to be self-reliant by affecting our judgment, the way we act and react in situations,  and how we manage ourselves.
The end result is: although we may be able to live independently, we are not fully independent.
We lose abilities and skills that contribute to not being able to live our lives the way we did before our brain injury, and that makes it hard to feel pride in what we do or who we are. We have seen that, quite often, even when a survivor is able to live on their own and perform the day to day functions they need to survive, we often feel a tremendous loss because we don't feel good enough about ourselves, or  confident enough to consider ourselves a truly "independent",  functioning human.
How we approach our lives after brain injury goes a long way in determining whether or not we regain our personal pride and feelings of being independent.  Although we suffer real losses that can be very difficult to adjust to and live with, it is not the losses themselves, but how we choose to relate to our losses that determines how we feel about ourselves, the quality of our lives.
The first  step to being independent is to feel pride in who we are, and we can start to do this and begin to take more control of our life by preparing for the battle we find ourselves in. We must sharpen our sword. We have to put on armor. We have to prepare, both mentally and physically, for a long, all encompassing siege.
When I was in the rehabilitation hospital, and my physical therapist was holding my belt loop as I staggered down the hall in front of her, doing my best at walking, she asked me, "Aren't you amazed at what you can do?"
I answered stubbornly, "No. I'm amazed at what I can't do."
Was that pride? I'm not sure. These were fighting words from me, and at the time they showed my ego was involved and it was pushing me to get better, which was a good thing. In the long run, however, focusing on the losses, on the negative, and on the things that take away our independence is not the best thing, and sidetracks us from focusing on what needs to be done and what can be done.
However, my words were the start of something. I needed to build a foundation of accomplishing and feeling good about myself, and then continue on that path so I grew to value what I was, and what I was able to do. Taking control of my TBI involves how I accept it, how I act towards it, and what role in my life I allow it to play; all the while not looking at it in terms of "what it has done to me".
We all have constraints, both  mental and physical,  we have to live within, but we can still strive to have pride in what we are. Perhaps we can use the power of our minds to keep pushing forward as we try to break barriers: the first step to improving our life is simply by appreciating ourselves for what we are so that we feel pride, and by not dwelling on the losses we suffered due to our brain injury. I know we have that power, and I challenge you to feel pride in who you are now, and take control so that you can feel truly independent.
Thanks for reading.
Jeff