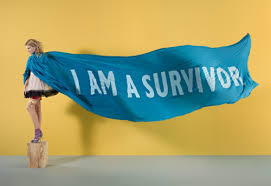 You've probably noticed that my website is named TBIsurvivor.  To me, the word TBIsurvivor is the most straightforward  and clearcut way to describe my own  situation to others, while at the same time, by the use of this word, I am communicating that I am not a passive participant in my own life, but I am engaged in the battle; the battle for myself and my well-being.
The word TBIsurvivor lets others know that I am a member of 
the family of TBIsurvivors: all those who have ever been, and all those who ever will be. There are many, many of us, and we are all linked by a common battle; a fight to live a fulfilled life after brain injury. We are all faced with different circumstances and hurdles that are based on our injury, who we are, and our situations both pre- and post-TBI. The details may be different, but we are all fighting the same general battle against brain injury.
This isn't something we asked for, but as long as we are here, let's find a way to make the most of our situation, and lets begin with the word TBIsurivor as a way of defining both us, and the struggle, as well as giving us strength and purpose. 
The roots of the battle…
Over the years, people have said different things to me about what the word "Survivor" means to them.
Recently, someone mentioned to me that they thought it is a great, descriptive word, that there is power and strength in the word TBIsurvivor; both in terms of TBIsurvivors fighting to recapture their individual lives, and as a group, fighting for each other.
Of course, the word has different connotations to different people.
Here's my  vision:
Very simply, there are relatively few outcomes a person can have in anything as we go about our life:  we can win, we can lose, or we can muddle through in neutral. The trick is to be winners in the long run.
As TBIsurvivors, we encounter much failure in our daily lives simply due to what it takes to learn about, experiment and explore our individual selves.
As we fight through our daily battle, we need small victories to keep us going. These small victories not only  keep us motivated, but they remind us that the goal we are striving for is attainable. While, during our struggle, we may in fact be quite a ways from actual "victory" in the overall battle, and may never reach the stage  we call "recovery", but we need to be able to "smell" it; to sense it and feel it.
Through the frustration, despondence and depression we may feel at times, we need to understand that there is life for us out there, and although that life may not be what we had once thought it was going to be, it is our life, and our job to make it the best life we can.
Referring to ourselves as TBIsurvivors is a way to carry ourselves through the daily skirmishes we find ourselves in so that we may regain our personhood. As TBIsurvivors we take what we can from each situation. We turn "lemons into lemonade" and we look for "moral victories", realizing that each person's definition of success is different from the other's. So, we redefine what it takes for us to feel good, feel worthy and important, because that's what a TBIsurvivor does.
Forward Motion…
I have always held a picture, in my mind, of myself, as I fight this battle. The picture I see is me, walking forward, bent over as I push my way into the teeth of the hurricane force winds that are trying to stop me. I may walk stopped over at times, but I keep moving.
That's me. Always in motion. Always moving forward.
I have been told I have  a "survivor mentality", meaning that I am always looking for the positives in whatever is happening in my life, and that the meaning  I take from struggles is powerful and is used to power me on to new heights.
That phrase has not always been used as a compliment, but has been also used to point out that, to some, I seem too focused…too driven to find the good and keep myself moving. But that is my lot in life. I will not back away from it. I  am proud of it.
We're fighters, us TBIsurvivors, and we don't quit. If you classify yourself as a survivor, you are a player in the game, and are, in fact,"winning," simply because you have made a critical choice;  a choice to move forward with your life powerfully by meeting your hurdles head-on. As a TBIsurvivor, you are not afraid of failing, because you know that failing is just part of the game, and by failing you are learning to win.
Thanks, Jeff