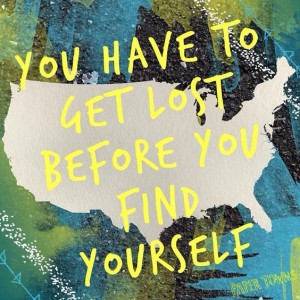 "Will you be able to find your way out?" my girlfriend asked after we had made our purchase.
"Of course," I said as I walked off.
The mall during the holiday season isn't the friendliest place but we were forced to go there to
get something for the house. Now, released from my obligation, I was leaving "department store purgatory" while she continued to shop.
Yes, I would be able to find my way out, despite the crowds, the noise and the bright lights, I would do it–no problem. After all, I've been finding my way out for 40 years.
Two quick right turns and I found myself in some kind of towel or sheet department that didn't look familiar,  and I realized I was going to have to improvise and bushwhack my way out of the jungle.
Being lost is not the end
We all get lost from time to time. We all lose our way. It goes with the TBI territory. How we deal with getting lost is what drives us crazy. We need to make sure we deal with getting lost in a productive and constructive manner.
What does that mean and how did we do it?
First of all, just accepting the fact that it's going to happen, that we are going to get lost, takes a lot of pressure off of us. Having the pressure taken off allows us to look at our situation in a different way.
Let's take a look at what's really going on:
The first thing a lot of us do when we get lost is to say to ourselves, "Yup. Lost again. Can't you do anything right?" Then maybe we shake our heads and chuckle…or we get mad.
Then a million things start going through our head as it starts spinning, and you find yourself getting lost-er and lost-er (I know that's not a word, but it's appropriate).  You are trapped in the TBI spiral, something that starts innocently enough with the realization that you are lost, and eventually becomes an overwhelming feeling of TBI anxiety that verges on an actual panic attack.
If we accept the fact that we get lost, maybe we can approach it so that we don't fall into the TBI spiral.  This means we skip the part where we beat ourselves up and get pissed and panicky, moving right to the part where we start looking for solutions in order that we can find ourselves.
After all, this isn't really about getting lost, it is all about finding ourselves.
In the store that day, I worked hard at not beating myself up or being panicked, and instead tried to accept where I was and follow my instincts to find my way out; using my powers of reason and observation. Sometimes, when we're panicked and upset, and we're so busy beating ourselves up that we forget to open our eyes to what's around us. Many times, the clues that give us the answer are right there.
Low and behold, I found myself standing in front of the escalator. Once on the first floor I simply began in the middle and walked down the center aisles to each exit until I found the right one.
Success!! Stage two
Great! I made it. Now where was my car?
I stepped out into the parking lot and realized I didn't have a clue. That is is something that is very frustrating: just to walk into a parking lot, and know your car is here somewhere, but draw a blank on where it is.
When this happens, it's similar to being lost, except you're not lost, your car is. There is first panic. Then confusion. Then overwhelming frustration. For many of us it's "beat yourself up time again" as you get caught in the TBI spiral. What you may not realize is that the deeper you sink into the spiral, the harder it is to do what you have to do, which is find your car.
In a situation like this, I try not to dwell on the idea that I lost my car, because, not being able to find my car is not the issue that I need to concentrate on, just as been lost in the department store is not the issue. I need to make a transition so I can focus on finding my car: the task at hand.
The first thing I do is try to remember driving in. What did I see? Does anything look familiar?
I looked around and saw a boy running across the street from one parking lot to the other. This jogged my memory, and I suddenly remembered walking across that same street. So, I was in that parking lot over there. Not this one over here. I knew I still had my kayak rack on the car, so I looked across at all the roofs of the cars. There it was.
Improving daily
We have so many opportunities to improve. Many times, however, we look at those opportunities as chores, or reasons to get down on ourselves because we focus on the wrong things. Focus instead on being successful.
Life after TBI is a series of exercises, where we can use virtually anything as a means of improving our lives and out situation.
The trick is in how you approach it.
To Life!!!
Jeff