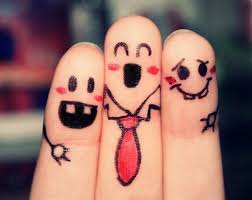 Sometimes we get so emotionally invested in something that we are not able to get the beyond the B.S. to see the truth. Such is the case with the relationships with our friends after we have experienced a brain injury.
Friends, the anger monster and the truth
Although the specifics of what happens to each of us as a result of brain injury can be wildly different,  having our friends leave after we experience a brain injury is nearly universal. Our friends bug out on us just when we feel we need them the most, and that not only leaves us trying to figure out why they left, but it also feeds the angry monster in us that makes us feel incapable and un-worthy.
When a survivor is going through this it's hard to be objective and see or accept the truth. Already in a weakened, dependent state, the fact that friends seem to leave confirms all our worst fears about ourselves, makes us angry and makes us blame others. We do these things because we are unable to see the situation for what it is.
What is really happening when we say our friends "leave" us?
The dynamics of a relationship might change because something happens which affects how you and your friends relate to each other. It changes what you depend on each other for, what you are capable of, and what you each are looking for in the relationship.
Add to this the idea that we may not be totally objective about what is happening; our vision clouded by anger, confusion and frustration, and you can see how hard it can  be.
Looking beyond the anger…
About three years after my brain injury, a friend of mine who was hit by car experienced a TBI. Before he came back to town I thought, "How great would it be if we could hang out together, understand, and help each other?"
However, when he came back I just couldn't communicate with him. He seemed to be on another plane, a plane similar to one I had been on  a few years earlier.
What was happening made me think of my experience with my friends in college, and how I had blamed them for not being there after I came back to school.  I wondered if this friend was blaming me for not being there for him?
I began to see that maybe I had partial responsibility for what had happened when I was in college.
Initially things had seemed right: they drove an hour to visit me in the hospital and visited me at my parent's house. I guess I expected them to "magically" be there for me when I went back to school, just because they had been my friends, that's what friends do, and they had appeared ready to accept me.  Wrapped as I was in my own world, perhaps I had misjudged how hard it was for them–and because I was so focused on myself I was unable to see that my car crash may have changed their lives too.
…to see the truth
After 25 years I met up with those old college friends and we spoke the truth about what had occurred, something we couldn't do way back when. We talked about what had happened and how hard it was for all of us.
I realized that at the time there was nothing any of us could do about the situation. We all had to go through our "stuff", and that was the truth, whether or not I wanted to hear it. Even though I didn't see it then, we were all living our lives the best we could.  They just didn't know how to connect with me, and I didn't know what to do about it.
Understanding and acknowledging the truth about what had happened freed me from the chains I had wrapped around me. I now knew for sure that it was not my fault, and there was nothing wrong with me. I also saw it wasn't their fault, and I was finally able to come to terms with that.
This was powerful for me…life changing. It allowed me to move forward, powerfully, with my life, without the anger and the self-doubt. I saw how all the anger I had carried around with  me had affected how I lived my life, and was able to move on with that great weight off my shoulders.
Thanks, Jeff