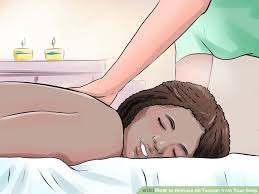 Ever have those TBI moments when your body just seems to seize up? When you've forgotten why you  were doing what you were doing and are unable to function? When you freeze?
That's TBI tension.
TBI tension is stifling: it envelops us, like being wrapped up in clingy plastic wrap, like yesterday's leftovers in the refrigerator, unable to even take a breathe.
TBI tension is real, even though we are unable to see it. In fact, most of the time we only become aware of it when, all of a sudden, it drops in on us unannounced and we find ourselves wrapped so tightly we can't move.
Most of us do not even know there is such a thing as TBI tension, or that we can possible do something about it. We assume that the tension we feel, or the reaction we are having, is part of the TBI package; a direct result of our TBI.
Since my TBI I have tried break down what is going on with me into manageable pieces. This includes: not assuming that everything I do or that happens to me is because of my Brain Injury, and that my behavior/actions are more in my control than I might think. Let me show you how that relates to how I think about TBI tension:
It is a well known fact that those who have experienced a Traumatic Brain Injury have memory issues. When I have a lapse in memory, the most common response is for me to try even harder to remember and then to beat myself up for not being able to. This action of trying harder causes the gears in my head, moving slowly to begin with, to come to a complete  halt, and I experience a total blank.
The way I think about it, the tension is caused, not by trying to remember in the first place, but it is my  reaction to not being able to remember: when I can't remember I try even harder to remember, and that causes some kind of reaction in me. I freeze up and my ability to remember just gets worse. I strain and grunt, trying to recall that important nugget.
This TBI Tension was lying dormant in my body until  some event triggers its release. Understanding this has helped me to able to deal with it better when it occurs in my life.
Remember the Tuning Fork
One aspect of life that changed greatly for me after my traumatic brain injury was that I now had a constant feeling of pressure and tension tucked away in the background as I lived my life, and it would surface at the worst times. I looked at it as being out of tune with the rest of the world.
When I  thought about it, I decided much of the pressure I felt was self imposed; the result of thinking I should be able to do things. Sometimes I would feel that pressure when I was anticipating problems before there was even an issue; but usually I felt that pressure when I was in the middle of something and messed up.
That pressure would be especially bad when I had to do something under a time constraint. When it was both a new situation and a time constraint; look out, baby, we're headed for trouble.
It seemed as though I never could relax and have a vacation from my life.
We might not think of the pressure and tension as a separate problem, and so we blame our brain injury. When we do that we don't think of ways to get ourselves to be more relaxed and accepting of what's going on in our lives.
Here's the Trick
I'm looking to a whole body solution.  Here's something that works for me:
Just understanding that TBI tension exists, that I am not going to that it as something that's tied in with my TBI, and is something I can work on, can help alleviate the effects. Something else that can help is knowing that I need to prepare myself as best I can for the different situations I are going to be in. For me, being prepared ahead of time helps me in situations where I am unable to process information quickly or might get confused.
It's all about finding ways to keep ourselves relaxed, either by how we do things, being prepared, by avoiding situations that we know will be a problem, or just learning how to get control over our emotions. An other important part of eliminating the tension is accepting ourselves so we stop beating ourselves up, and not making our mess ups an issue but instead staying focused on what we are trying to accomplish. Being aware that the tension itself isn't really  a direct result of our TBI, and that we can do something about the tension gets us halfway to finding a solution.
The rest is up to us, our good sense and the ability for us to accept ourselves and the situation we are in.
Thanks, Jeff