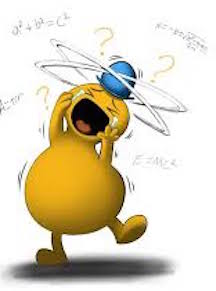 It's hard for others to understand what's going on with us when we say we're confused. Heck, it's even hard for us to understand. This lack of understanding leads to incredible frustration for others and for us.
What exactly is brain injury "confusion", why is it different from everyday confusion and why are we, TBIsurvivors, brought to our knees when faced with it?
Well, there is such as thing a "getting confused" from time to time in life, and then there is "getting Brain Injury Confused". Now, I am not trying to put "Brain Injury Confusion" on a pedestal, or say it's much worse than any other kind of confusion, but I do want to make a distinction between the two. This may help people understand it better and maybe lead us to discover ways we can overcome it.
Not: Six of One/Half Dozen of the Other
Perhaps the best way for me to explain the differences is to relate an experience I had about ten years ago,  which shows TBI confusion at its worst:
I needed to make a trip to the copy store to make copies of a stack of documents, and, having been in this situation before, I wanted to avoid the potential cluster-mess which I knew loomed in front of me.  This is one of the peculiarities of brain injury confusion: I absolutely knew the trip I was about to make was going to test my abilities to be organized and stay level headed, and that if I made one slip-up I was going to be out of control confused.
I knew preparation was key, and the first thing I did was take my stack of documents and organize it.
Once at the copy store, I carefully laid everything out in piles. Setting myself up properly for this task was the first order of business. I hate to say this but I really needed to make this as idiot proof as possible.
Things went along well for about 10 minutes, but then, one sheet of paper got in the wrong pile and I was completely thrown off. My head started spinning as waves of confusion rolled up, and then my mind went blank, as though my internal processing center had lost power. I started to sweat and got very angry at myself.
I've learned over the years what works best for me in situations like this, and rather than try and correct any mistakes in midstream, I needed to be levelheaded and admit to myself that I was going to have to start completely over. I knew that if I had try to make any midcourse corrections I would get even more confused.
I was able to finish, drive home and plop myself down on the sofa: sweating, dizzy, exhausted.
Major Minor
Not every confusion episode is this dramatic, but while this one example highlights how intense an episode can be, it will also give you a clue as to how easily one can become confused, even when doing seemingly mundane tasks.
The type of confusion I encountered was, in some ways, similar to what someone would experience who's having an anxiety attack, where one has emotional and physical reactions to being anxious.
While sometimes marked simply by blank stares and a passive admission of "I'm confused,"  TBI confusion can, at its worst, elevate confusion to a situation where you feel incredibly confused!, don't know what to do  and feel like ripping somebody's head off. 
The only good thing about our kind of confusion is that often you can prepare because you have some understanding and knowledge of the situations that cause confusion, as I had tried to before I went to the copy store. Being able to predict when you're going to get confused helps, but does not completely solve the confusion problem. You may do everything in your power to prepare for a situation you feel is going to be bad, and you still may not be successful in preventing it.
While being in a confused state can be very painful, as it was for me, often our pain comes, not from being confused, but from our inability to understand why we are confused, our unwillingness to accept it. This leads to the feeling that we shouldn't be confused, which makes things worse because we get so down on ourselves.
I've learned that actively fighting the confusion only makes it worse. However, taking some time to understand what causes me to get confused, allows me to prepare. Learning about myself and how I react also helps develop the presence of mind that will allow me to handle these situations better when they arise.
It can be very hard to remove the emotion when one of these episodes occur, but we need to work on being objective and allow ourselves to have some perspective on the situation. Only by stepping back, accepting it and not being emotional can we hope to address the confusion in our brain.
Thanks, Jeff