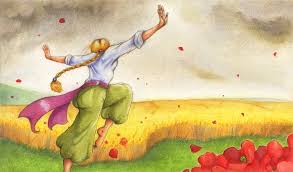 Is a little freedom too much to ask?
Free from worry. Free from pain. Free from confusion. Free from doubt. Free from all the "little" nagging, ever present stuff   that can make life after TBI difficult.
We focus on repairing ourselves so we can get back what we lost, but really, what we are looking for in one word, is freedom.
Those Limits
Many of us feel held back by the limits our brain injury has imposed on us. Sometimes there are physical limitations. Many times we have cognitive limitations or feel the pressure of  financial, family or societal constraints; we have no money and we feel like outcasts.
When you put all these factors together, you come up with a life half lived. How do we make it a full, free life, full of moments of living without a care, soaring through life like an eagle?
As I said earlier, we don't often think of our life after brain injury in terms of freedom. Rather we discuss it in terms of recovery, or getting our life back.
Well, freedom is not just about what we are able to do. It's about who we are.
What is Freedom?
We want to break the bonds that bind us, but we are so focused on this thing the doctors call recovery, that sometimes we forget to live our lives; it's almost as if we are marking time until we get back to where we want to be, and we don't allow ourselves to live or be free.
We all have different opinions on what it means for us to feel free, really free after experiencing a brain injury. Maybe you are looking for the freedom you feel when you're skiing through a layer of soft, fluffy powder.  Or perhaps you want to feel as though you are on the beach in the Caribbean with the surf crashing around you. It could be that freedom for you is simply being in control of your destiny.
So often, we feel trapped– trapped in our bodies, our heads or our circumstances, as we attempt to live our lives after brain injury. It's almost as if there are these invisible straps holding us down, and we feel trapped by a condition that affects everything we do, say or think.
We desperately want to escape from this heavy, dark curtain that has fallen over us, but we don't know how, except to faithfully follow the regimen our therapists and doctors have mapped out for us.
We may not realize it, but when everything we do is governed by a desire to recover, recover, recover, we are being c0ntrolled by our brain injury. Maybe there is a way to be thinking about how to live, live, live instead. Maybe we have to change our ideas of what it means to live, to be alive, and how we seek those things that make us feel free.
The Banshee War Cry
One of the best examples I can share of achieving true, momentary freedom, occurred about two months after I was discharged from the rehab. We had gotten about a foot of snow, and a friend and I went to a nearby hill to go tobogganing. I don't have a clear memory of it, but I believe it was early evening.  The hill we were going to come down was short and steep, with a long run out.
We dragged the toboggan to the top of the hill, lay it down and got on.  I took a breath and then we pushed off. It was the first time since I had awoken from my coma that I felt alive; my senses bombarded me with stimulation. The wind blowing in my face. The powder snow spraying all around me. The speed. The smell of fresh snow, and everything around us completely still…except for us of course. We barreled down the hill.
Temporarily, anyway, I was free.
I had forgotten what freedom felt like. I wasn't worried about crashing. I wasn't worried about hitting my head. I didn't care if I wiped out. It was just me, my friend, the snow and the toboggan.
Overcome with the feeling that I could do anything, I gave a loud "Whoop!", like a war cry, when we were at our top speed.
I saw the importance of stringing the small moments together, of living for every moment and taking nourishment from them because they gave me freedom. They gave me life.
That's what I want for myself. That's what I want for all of us: to feel free with no worries. To feel what it is like to be alive and be full of possibilities.
Thanks, Jeff