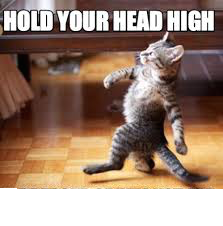 We struggle so much and we all need that occasional good word; that boost of confidence that comes when someone acknowledges you.
Many times during the first two to three  years after my brain injury I found myself stuck; unable to move.
I was paralyzed. The world seemed to be angry with me, punishing me for something I didn't do. I was always butting my head up against it.
I knew I needed to get my head above water so I could breathe.
I needed somebody to give me a good word and boost my spirits. Just say something nice to help get rid of all the negativity.
My Solution?
Living at my parents house, I was feeling very lost and alone, full of despair. I knew I needed something to get me through these times; I just wasn't sure what. Then one day, as we sat around the kitchen table, I instinctively reached out my parents with a simple solution; I asked them to tell me some things I was good at.
I just needed a little boost.
Many of you might be at this place right now; stuck in that dark tunnel with no light and no hope. You want so badly to feel good; to feel some of the promise you use to have, but how? You may not be as fortunate as I was to have your parents around to help.
A good word could very well turn the tide. A little support could go a long way to helping you move forward. That's all it takes: a little support.
Well, you have me to support you.
Your Struggle
You work so hard and others don't see it. Sometimes you work hard and even you, yourself, are unable to see any progress.
Other people, without even meaning to, tear you down and you feel deserted and alone.
I want to tell all you TBI survivors something you may not be lucky enough to have others say, and that you need to hear: you have done a great job. Whether you realize it or not, or whether you accept it or not, you need to know you have done and are doing a great job.
Sometimes, even when someone says it, it's really hard for you to hear what's being said because we feel less than human; we can't do what we used to do, or we don't feel worthy of praise, but this is something you need to acknowledge and understand because you deserve it.
No one can know the work you have put in and the mental anguish you have felt. No one can know the amount of work you feel is still in front of you. Some try though, and you respond by saying, "But I still can't do this, or I'm so stupid now, or I still can't remember things."
Sometimes the bad stuff seems completely overwhelming, and you dwell on it. The bad stuff takes over, destroying your confidence and your hope, making you unable to accept praise when it is given.
You've got to put that aside and listen.
I know. Every day it's the same stuff. It's hard to see progress. It's hard to see the positive. It's hard to see your life making any sense and it's hard to see a future. It's hard to listen.
But we have to train ourselves to see it and to believe and accept.
You are Extraordinary
I am standing up for everyone of you. I am here to tell you that your struggle against great odds has not gone unnoticed. I want you to know that each of you TBI survivors out there are extraordinary. You need to know that. You need to find a way to acknowledge it, accept it and really feel it.
I know–it's not easy and it's complicated:
We think of reasons why we shouldn't feel good. We think of all the things we still have to do or the things that we can't do that we used to be able to do. But we all have to put that behind us. We need to change our focus.
We can't always count on other people acknowledging that we've done a great job in coming back from a brain injury, but you can count on my support and my acknowledgment. I know how hard you have fought, and I know how hard you have struggled.
Find a way to build a well spring of confidence.
Start the process by acknowledging that you deserve it. Find a way to get past the negativity and be proud of what you are. Feel it in your heart.
You can count on my support.
Thanks for reading, Jeff