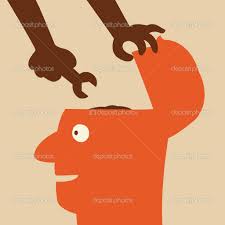 Once we begin to understand that something serious has happened to us, the first things we always want to know is, "When will I be all better?" Our natural reaction is to want to be fixed and have our lives magically to return to what we once were and what we once knew.
And we want to do it fast.
Fixing Things 
We are a society of fixers.
When your car is on the fritz you want someone to get under the hood and fix what's wrong.
When you have a brain injury it makes sense that you would do the same sort of thing: get under the hood and fix those skills and abilities that are not working.
But your brain is not car, and you are not a machine.
Certainly, there can be any number of areas that need to be  addressed, like the ability to live independently or to walk or remember, but we must realize there is no manual for being a human.
We start by going to therapies; occupational, physical, cognitive and speech, in order that we regain some of those skills and  abilities. These are important pieces of living our lives after brain injury, but, we have to ask  ourselves this: is that all there is?
Let's think about this for a minute:
Sometimes we forget we are people with wants, needs, and desires, who want to live full lives. Instead, we focus on fixing ourselves: re-learning our skills and abilities.
When we set out to fix ourselves like this, which by the way, makes perfect sense, we are concentrating on the stuff that is most visible. We think of ourselves as broken, and doing this gives us a path to follow at a time when we desperately want reassurances and a routine to fall back on.
The reasoning is that once we get our skills and abilities back we will be on a track to recapturing our lives.
However, while it is important to be able to function properly in society, we have to ask ourselves the question: will relearning our skills and abilities allow us to live a fulfilled life? Our long term goal shouldn't be just to be able to perform tasks and chores, but to put everything together so we can make ourselves whole again and function as human beings. That way, we can work to create a fulfilling life.
It's All About Focus
I'm not saying to stop going to therapies or to forget about wanting to get better; you still need to "get under the hood" to reclaim your skills and and abilities, but what I am talking about is how we approach our lives after experiencing a brain injury.
What I am saying is that you might be better served not by focusing on fixing yourself, but on living and being yourself. Perhaps we spend too much time fixing what we have become rather than learning to be who we are. That is, maybe we should stop looking at ourselves as broken.
My idea is to stop focusing on what you are unable to do, but to focus instead, on who you have become. In order to do this we must give up some of our expectations that are based on how we used to be, and begin to adapt to our new abilities.
In my own situation, I turn my back on some things that I had earned before my brain injury, thinking that I wasn't that person anymore. One thing in particular was an academic honor I had earned the previous year, but I decided not to accept.
It was so important that I not look at myself as being broken.
I wanted to learn who I was and be the best that I could be, and I tried to live my life deliberately and step-by-step. Sometimes that meant putting things off that might be fun to do other things that I knew would help me in the long run. The way I lived my life became important, as did the lessons I learned.
I tried to make the fixing always be relevant to my becoming a human being, and to fix myself not by focusing on it, but by integrating into my life. In this way, my life became my therapy.
The key for me was wanting to be a complete person, and not just someone who could perform all the tasks I needed.  That required learning how to be comfortable in my own skin, not learning how to change my skin so it would fit the way I thought it should.
I really believe I'm richer for it today. By approaching my life this way I was able to turn my brain injury into a positive experience where I was always trying to move forward and discover who I was, rather than always having to fix what I thought was broken.
Thanks for reading, Jeff