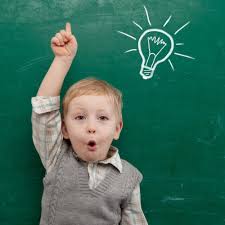 How many of us, TBI survivors, do things or say things only to wonder, minutes later, "Why did I do that?"
We go through our day-to-day lives, doing the best we can as we try to "normalize",  and we often find ourselves doing these things we think are normal when they aren't at all. It becomes routine to do things without understanding why or thinking anything about them; including how others might think about what we have just done.
Even though we have had a brain injury, we don't always connect that fact with the way we are behaving or the things we do.
Hopefully, we, brain injury survivors have that "aha" moment when the light bulb finally goes off and we suddenly realize the truth that has been eluding us: that the way we have been behaving has been strange at times, and it is because of our brain injury.
When that happens, a life that hasn't made sense suddenly does make sense, if only for moment, and we think, "That's why I do that!!" Life might not get any easier, but at least we know.
It's like the realization you get when you go to your first support group meeting and you suddenly realize that: you are not the only one.
Evolution
What all our injuries have in common is that each of us survivors attempt to go about living our lives, not always aware of why we do the things we do or behave the way we behave. Then, at some point, we may have that lightbulb moment when we realize what we have been doing is strange or different.
In my case, I just went about living my life, not knowing why I did certain things; not even being aware that some of the things I did were looked at as odd by others.
You would think I would understand that being in a coma for month would have some kind of impact, but I didn't always see that I was being affected  by it.
I was asked to serve two-year term on my temple's Board of Directors. I completed my term without saying more than five sentences, and the worst thing was, I didn't think anything was out of the ordinary. I never thought it was odd that I wasn't saying anything.  Nor did it ever occur to me that the reason I wasn't talking was because the dialogue was too fast and too confusing.
Being Appropriate
Another example was when I went to see a vocational rehab counselor, 25 years after my injury. I prepared  for the appointment: afraid it was going to be hot in her office, I brought along a light shirt in case I needed to change. Without thinking, in the middle of the appointment, I stood and started changing my shirt because I was hot.
She reacted very strongly, telling me that it wasn't appropriate for me to change in her office.  I heard what she said, but still didn't understand, because in my mind she was a doctor and this was a doctor's office–it should be okay to change here.
There are so many things I've done or said throughout the years that have seemed perfectly normal and acceptable to me, but were inappropriate or wrong to other people. I had lost the ability to think outside of my own little world.
I was fortunate to work in a family business where many of the "quirky" things I did were accepted and never mentioned. One of my behaviors was this: when I was in a management meeting I would get up and simply walk out when I got overstimulated. After I had time to decompress, I would go back as if nothing had happened and no one would say anything to me about my behavior. I had no idea what I was doing was strange or unacceptable, but everyone  else noticed. I heard later the secretaries in the office would say, "There goes Jeff again," as I walked by.
The Bulb Goes Off 
I had been working so hard to act as if my injury wasn't there, just doing these type of things and not thinking anything about it, that I went a full 25 years before I began to understand. Oh, I could see the cognitive issues alright, but what I didn't understand were the emotional and behavioral issues; the poor judgment I often exhibited, or the anger. I did not understand why I would sometimes rage, and why I raged at the things I did. I didn't understand my frustration, and how my frustration would turn so easily into anger, even though other people would be shocked and upset.
For 25 years I knew I had a brain injury, but I didn't really know what that meant.
After 25 years that light bulb went off my head, and the last 16 have been a time of self-discovery. I can look back at the things I have done in my life and at the situations I have handled poorly, and can finally understand.
Knowledge is the gateway to understanding, and for us, understanding is the gateway to a better life.
Thanks for reading, Jeff