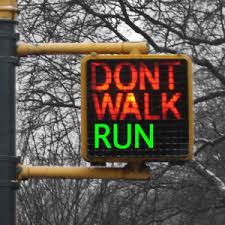 When you have a brain injury many things change. Life is different in a way  you can't explain and other people don't understand.
Those other people who don't understand, in an attempt to help us, are always suggesting ways we should approach our injury or live our lives. The trouble is, what they are suggesting is based on their reality, which is the same reality we used to know and live by.
The question is, why should we try to do things the same old way, following the same old rules? Why do we need to follow the directions of others when we might already have a pretty good feeling, inside of us, that the old ways will not work for us.
Case in point: there are always people telling us to walk and not to run. To calm down. To fit in.
You don't have to listen to them.
My Story
When I was in the rehabilitation hospital, recovering from a TBI, I didn't enjoy being treated like I was helpless or an invalid. I know they were there to help me, but that place bothered me.
First off, there with the wheel chairs; all of us in wheelchairs–like a small army. Walking, therefore became the first symbol of brain injury: for me, it was key. If I could only walk on my own I could really begin to get "me" back. I was sick of this wheelchair stuff. Sick of being dependent on other people. Sick of squeezing into the elevator built for four wheelchairs before and after every meal.
After a while, the doctors on high deemed me well enough to go home on weekends with my parents; sort of like a work release program, and, instead of a wheelchair, they sent me home with a cane.
A small but significant victory.
This is going to be my first taste of freedom. Leaving the rehab. Driving in a car. Sleeping in my own bed.
The week before I went home I thought about the excursion I was about to take, about what kind of things I wanted to do; and it was clear, most of all I wanted to find a way to walk on my own.
Learning to walk was a clumsy, stop-start, staccato type of thing. I remember lurching around the room in PT, unable to maintain my balance or feel comfortable. What I needed was fluidity. What I needed was constant motion. Smoothness.
Most of all, what I needed was to get out of my head. What I needed was something I could just do without thinking, where my instincts would take over. I needed to be totally engaged in an activity such that I would have no time to think about which foot to put in front of the other, or whether I was leaning too far to the side, or if I was pumping my arms. If I was leaning too far to the side I might fall, dammit, but I would get back up. I would have faith in myself, I would trust my instincts, and I would believe.
Instead of trying to walk, I was going to run.
I remembered being in swimming lessons when I was young, and how I was unable to do something as simple as the doggie paddle. The reason for this was that the dog paddle was done in a position that said to me, "Stand up!" The dog paddle was dumb. Why even bother learning it? It did nothing.
One day I started doing the American crawl. I swam like a champ and skipped three levels of swim lessons.
Why couldn't walking be like that?
Race Day
My father, my eight year old brother and I drove down to the high school on Saturday morning for a lap around the 1/4 mile track. I would say it was a crisp, clean October New England morning, but it was much more than that. I was taking back my independence and freedom, and the air was full of promise.
We stepped to the track and I ceremoniously threw my cane to the ground. Then I started to run, my brother on one side and my father on the other. I could feel the wind in my hair as I baby-stepped around the track, chugging like a locomotive. The motion was there, my instincts were coming back and my theory was working. I fell once, but that only made me more determined.
I felt life. My blood was pumping. This was the stuff I had been missing, and the faith and belief I felt were strong, like the Force in a Jedi knight. I would need that faith and belief in the future to get me through this. It would be a long, bumpy road, but I was starting off on the right foot; running before I could walk.