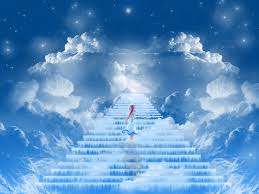 The story of our life starts the moment we are born into this world. Our story is full of what makes us human: joy, failure, triumph, heartbreak, perseverance, love, facing obstacles and learning what it takes to live.
As stories go, each story has a beginning and has an end, and we, at some point during our lives, become aware of our mortality and learn to deal with the concept of death in our own way:
Some of us pretend we are indestructible and live as though we will not die: hoping to pass in our sleep or have our death be instantaneous; wanting to be blissfully unaware that death is on our doorstep when the time comes.
Others grudgingly accept the reality of death: although we know it will someday come for us, we try to keep it away by not thinking about it. In other words, we choose not to deal with it, and, although we know it is there, we tuck the thought of death away in a corner where we can't see it.
There are still others among us who actually embrace the idea of death in the hope that by doing this, the lives we live will become richer. We hope to die a "good death", unafraid, desiring to teach others and leave a legacy by how we choose to approach the end of our lives..
Our  Relationship with Death
Our feelings about death, or our relationship with death, can change when we experience a serious illness or a traumatic injury such as a brain injury. In very general terms, those of us who have suffered a  a brain injury have had a closer brush with death than others who have been in good health, and and our feelings about death can be influenced by this.
While my life has been greatly impacted by brain injury, my TBI has also changed the way I, personally, face the idea of death. For one thing, I probably think about my own death more than the average person does. I don't dwell on it or wish for it, but I think of my eventual death as a natural byproduct of my life, and, above all,  I want to be ready when it comes.
They way I look at death has been influenced by a singular experience: I went from being an active teenager one instant, to waking up  in a hospital bed a month later, wondering what happened to me. That makes me feel that I want to know and understand when I am dying. I don't want it to just happen without me knowing it.
Things Change
Brain Injury changed my life and my relationship with death. There were years when fear of the future, depression and despondency prompted me to wonder why I was even alive. I never seriously contemplated suicide, but I would occasionally say to myself that it didn't matter to me if I died that day. At the time there seemed to be nothing to live for; I didn't think I would be missing anything by dying, except perhaps more confusion and heartache.
However, I wasn't entirely comfortable with those thoughts; they were such a dead end and didn't make me feel good. To combat them I looked for things to live for so I would care if I died; things that meant something to me, things I found important.
I saw I needed to take an active role in creating a new, meaningful life so I could live the best life I could, and, hopefully, die a good death.
Instead of telling myself I wouldn't mind if  died today, I began talking to, and treating, myself differently. I started checking in with myself, almost daily, asking myself questions like these:
What if I die today?
Will I be ready?
Will I feel as though I have done all I can with the tools I have?
Living, So I Will Be Ready to Die
I know full well I can die at any time, and I want to make sure I am making the most of my life. Living does not mean I want to make the most money. Nor do I measure "living" by the number of "things" I do or have, or places I go. I don't have to be "successful" in the classic sense.
I think about what I value. I think about  the TBI battle that has taken up much of my life, as well as the progress I have made and what I have accomplished, however small and meaningless to anyone else. I don't feel a need to defend myself when others don't understand what I mean by "living". My life, living with a brain injury, is often very different from other peoples' lives.
I measure my time on earth  by the number of people I have been able to have a positive impact on. By the richness of my life. By what I have learned. By things one can't measure.
If I die today I will definitely miss some great things, but I and my loved ones will know that I have given my best, despite whatever hardships I have faced. I hope they know that the hardships I have faced have not taken away from my life, but in a strange and inexplicable way have added to the richness I have felt and the joys I have known.