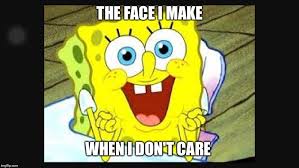 At some point during this 43 year "trip" I've spent living with a brain injury, I got fed up: too much of my mental energy was being spent getting frustrated and angry because of things other people said to me. That was the moment I decided that I should not allow my mental health or my well being be dependent on the words of  others.
I saw that no matter how much I tried to teach and inform others about brain injury and me, I would never be able to control what they actually thought about me and what they said. The only thing to do was learn to control the one thing I could: my reactions.
My Plan
In order to change my reactions I had to change how I heard things. When people made statements that I thought were  misinformed or insulting, about me and how /my brain injury was/wasn't affecting me, I stopped looking at it as an attack, and instead began to look at it as if they were just testing me. When I looked at it that way, what I had once thought were uncaring insults and degrading comments became exams; tests given to me in order to see how far I had come on my road back.
I would pass or fail the test based on my reactions.
Each time I went ballistic because someone said something I didn't like, I was failing the test. Getting defensive and trying to "convince" others who wouldn't listen or didn't understand would make me emotional and cause me to lash out in anger and frustration. Not only would I fail, I was losing my power and my dignity.
On the other hand, if I ignored their words and had no reaction, I would pass the test. But ignoring wasn't easy. I wanted badly to defend myself, and ignoring those hurtful words seemed to go against everything I stood for. What allowed me to ignore their words was learning to not take what they said personally, almost as if I didn't care. 
In order to pass each test, I developed these three statements to help:
I'm not made of glass, and I won't break if you say something I don't like.
I will not let the quality of my life or how I feel about myself depend on your ability to either, understand what's going on with me, or to talk to me a certain way.
I recognize  that it would make life just a tiny bit easier if others could understand and validate me, but I'm not going to expect or demand that because I have the strength to move on.
When a person said something I thought was wrong or they doubted what was going on with me, my immediate focus would be on not acting impulsively, and, instead, working to stay calm. I saw the importance of, instead of just reacting, stopping for a second to think about the three statements above to help calm me. These became my mission statements. Once I ran through the mission statements in my head, I was ready to not take their words personally.
Don't Let Words Bother Me
Finding the strength to be solid and in-control was not easy. Certainly, in the early days when I was most vulnerable and a long way from being able to stand on my own two feet, I rode a roller coaster of emotions, made worse by my reactions to what others said to me.
When I pushed myself to take a hard look at what was really going on, I saw that my reaction to hurtful statements was caused, not just by what they actually said, but also, by how I felt about myself. When I looked deep down, I saw that the honest-to-God truth was that the reason I reacted so poorly to what people said was because of the low opinion I had of myself; if I hadn't felt so helpless and unworthy, and, instead, had a higher opinion of myself, I wouldn't rush to interpret those things people said as mean, stupid or insulting.
If I was stronger, those words would bounce off me as if were a superhero.
I couldn't stop people from saying things, so I had to change the way I heard their words and learn to be that superhero by not taking what they said personally.
I knew it would be tough, but I had to find a way to be stronger and more secure in myself.
My Well Being
I don't have to put myself at the mercy of others. I don't have to let their thoughtless words affect me, and I have the right to live my life on my terms and in my way. The old saying, "Sticks and stones will break my bones, but words will never harm me," became my mantra as I worked to take my life back. I was all done putting my well being in the hands of other people by expecting or wanting them to be a certain way, and by giving them so much credibility.
Others can say things to us that can feel like a gut punch that sends us reeling. Words can really hurt. When others, especially those close to me, didn't believe me or belittled me or my injury, it was incredibly upsetting, but fighting back by arguing or getting frustrated and angry was not the answer. I had to be that strong person, that superhero, and show them who I was and who I was committed to be; that would have much more value and credibility than trying to defend myself in an argument I couldn't win.
We,  TBI survivors, who can get confused about what our life has become and our position in the world, yearn to be understood and validated, but we cannot demand that or expect others to behave differently..
We win by showing who we are, and by being above the fray and not taking things personally, as difficult as that might be.