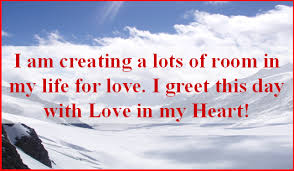 Every so often I find  myself thinking about a friend of mine who I haven't seen now in several years. She had experienced a brain injury about ten years before I knew her, and her life was filled with many of the struggles we are each familiar with.
When I do think of her, I think about the way she faced her situation: with grace
and dignity, and I think about her professed desire to live her life "with love in her heart."
We all know how hard it is to look in the mirror every day and stare into the face of brain injury. Brain injury is difficult to fully comprehend and to deal with, and it's really quite amazing for one to come out the other  side with such a selfless attitude.
However, that is the best revenge on your TBI: kill it with kindness.
What is this "Love" stuff, anyway?
Looking in the mirror is when it really hits us. "Is this what I have become?" we think. Maybe we think about what it used to be like when we looked in the mirror, and how things have changed, even though we might pretty much look the same.
When we feel like this: so lost and focused on ourselves and finding a way to survive, "Living with love in our heart" is difficult.
Sometimes we feel lost and alone, and we want our family and friends back. We find it difficult to adapt to our new reality. We get down on ourselves. Sometimes we feel worthless. Maybe we feel sorry for ourselves.
Sometimes we even wonder why we survived.
None of us are given the choice of whether or not we want to live our lives with a Traumatic Brain Injury. TBI is just one of the many life changing events that can occur during one's lifetime, but TBI is singular because it is one of the most confusing, frustrating and painful events a person  can undergo.
TBI makes living your life with "Love in your heart," the last thing on our mind.  We are more focused on the challenges we face on a daily basis; maybe relearning how to walk, or possibly regaining cognitive skills. We are exhausted. Maybe we are angry and frustrated. We have so many challenges most of us are probably unable to comprehend how we can ever have "love in our heart."
And what does it really mean, anyway?
Having love in our heart doesn't mean we get all sappy, and walk around expressing our love for everyone and everything. It's a way of saying that we are open to new possibilities in our lives, and that we don't want to be negative or judgmental; that we are receptive. It's a way to remind ourselves what it really means to live as we search for our place in the world.
Sure, we have a tough road, and it will continue, however, but we are not going to let that affect how we are as human beings. We are going to show care for others, and most importantly, we are going to show care for ourselves.
Revenge on our TBI
Brain injury might have done a number on us, but we can find ways to make it easier by changing our focus. Not only that, but it is a way to "win" the battle against TBI…our way of making a stand for ourselves, and declaring that it's not going to control us, and we aren't going to let it beat us down. 
We are going to get our revenge by being great human beings. We are going to be giving, and loving, despite of what has happened to us, and we are going to ease up on ourselves when we don't meet our own expectations, or are unhappy with the results of what we have done.
Having "love in our heart" also means forgiving ourselves and giving ourselves a break.
The anger and frustration still comes at times, but we aren't going  let  these win and rule us.
Finding a way to have love in our heart is a way to live that removes the focus from us, and makes us more expansive. That love, expressed outwardly, will help us heal. 
When our time has come to an end, our friends and acquaintances will want to talk about us in the only really important terms. They will measure our life, not by what happened to us or what we lost because of our TBI, but by how we fought, what kind of human being we were,  and by how big our heart was.
As hard as it might be, find that selfless place in you so that your  life becomes not just about you and your life post-TBI, but about the world.  Be a great human being. Learn to give what you have and you will have found a way to beat the effects of your TBI.
Thanks, Jeff
,