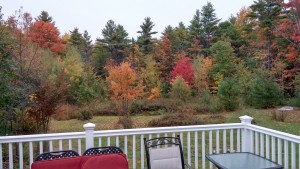 My experience in my coma has had long term emotional affects; in the way I think and feel.  An example:
Some people think I'm crazy when I say this, but to me the fall colors in New England are more impactful on a dreary, overcast day; like my backyard above, taken just before a steady rain.
The days when the weather doesn't cooperate, when it's misty and drizzly, create a magical beauty which envelopes me protects me and nourishes me. The leaves glow with an inner brilliance, which to me is very satisfying.
The quiet, dark days are good for my soul. But why?
Perception and Value
It all has to do with how I view and perceive things in my life, and the things I search for. What I have come to realize is that what I value in my life has been undeniably affected by the time I spent in a coma.  Since then, I look for stuff that touches my soul; that "does something" for me. 
I think that, subconsciously or consciously, I look for ways to go to a low key and peaceful place, where I'm kind of cocooned, and I can't help but wonder about the connection between feeling this way and my experience of being comatose.
Much of my coma was a black hole, or at least I think of it now as an undefinable black hole.  I have a sense of spending time in a dark, overwhelming place.
However, the two weeks I spent semi-comatose were very different; this time was nerve-wracking and frightening. During these two weeks I was in one of two states: either I had my eyes closed and was dreaming, or was sitting with with my eyes open, watching what was happening but not understanding.
My dreams all brought in what was in front of me when my eyes were open, and all had a common theme: I was trapped, either in a closet with bars, or on a bed with bars, and even though I pleaded with anyone I came across to be let go, no one paid any attention to me. I could not understand why no one would let me out of where I was, and was completely scared and despondent.
When I in bed, I was often tied to a wheelchair set in the middle of the Intensive Care Unit, with my eyes open. I would sit and watch as  nurses and doctors scurried back and forth, and in my mind I was yelling and screaming to them to be released, but no on would pay any attention. It was maddening and frightening, being treated as if I was invisible.
Consciousness Regained
One afternoon, after two weeks of this, I was tied to my wheelchair with my eyes open when the phone rang. My mother happened to be the one who was calling. Being three hours away, she would call just to talk to me so I could hear her voice, in the hopes that it would jog me, and I would wake up.
Gradually, as I sat tied to my wheelchair, I realized I had some control over my body. One of the first things I became  aware of, outside of my own body, was the ringing phone and the nurse telling me it was my mother. I didn't move, since I didn't know who these guards were standing around me, dressed as nurses. I was sure they were dressed as nurses to fool me. Seeing deception as my only chance to be saved, I was very careful not to let anyone know I was conscious.
The nurse held the phone to my ear, and my mother began talking.  Terrified, hoping my plea would be heard, I blurted out, "Help!!  I'm being held prisoner!!" I don't remember what happened after that, but I am here today, so someone must have heard my cry for help.
I have carried that with me for forty years, never giving thought to how it might have affected me…until this week.
It has affected me in very deep, but subtle ways. One of the subtle ways it has affected me, I believe, is in my constant search for some kind of peace and an avoidance of stressful situations; a search for a place in the world which is quiet and secure, and which I understand. One such place is the woods on a misty fall day.
To this day, I just generally love being in the forest, with a light rain or snow falling,  or the full moon out, walking, snowshoeing or cross-country skiing.  Night time is the absolute best. There is no stimulation: noises or bright lights, and time stands still. It's just me and the silence. And it is deep, to the bone silence.
I treasure each moment in my cocoon, with no stimulation or distractions to cloud my thoughts and confuse me, or distract me from the important  matters at hand.