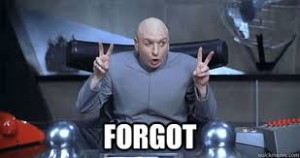 "Let's see…where did I put my keys?"
"Damn! Will someone call my phone?"
The ol' memory don't work the way it used to. Are we getting old?  Yes, we are getting older, but we've also had a TBI.
The information we need is buried somewhere in our noggin, we just can't dig it out because of that "damn brain injury." It's as if our brain is a big filing cabinet, and the contents of the filing cabinet has been dumped all over the floor. We know that what we are looking for is in this big pile of papers, but how are we going to find anything in that mess?
Once again, we are left scratching our head because we forgot something. Maybe it was an appointment. Maybe we said we would do something for our kids. Maybe we forgot our best friend's name. Whatever it was, it was meaningful or important, it was something we said we would do or something we should know. We feel terrible and we beat ourselves up because we forgot.
The aftermath of forgetting also has a familiar ring. When you're asked about something you were to do, or someone refers to it, expecting it to already be done or for you to be familiar with it, you get that sinking feeling in the pit of your stomach as you think, "Oh no. I forgot again!"
You are left speechless, and all you can do is shrug your shoulders and sheepishly say, "I forgot." Your body language communicates defeat. Maybe you make a joke about it as a way of coping and moving on.
What is behind those two words: "I forgot?" Saying these words, although completely accurate and not intended to be for this purpose, are a way of placing blame on your brain injury. You are telling people that it's this "damn brain injury" that is responsible for your behavior. You are telling them this by your words, body language, facial expression, and voice inflection.  Implied also in the words, "I forgot," is the idea that if you hadn't experienced a brain injury, this wouldn't be happening.
What we don't realize is that these words, while intended for others, actually have the largest impact on us, because, by saying, "I forgot," we end up recalling and dwelling in the past, accepting it as reality, and possibly embedding it into our future. In our minds, we sometimes surrender to the fact that our brain injury has caused us to be perpetual "forgetters".
We get trapped in the past, brought back to the brain injury that changed our life and that won't allow us to move forward.
Trapped in the past we get depressed and lose hope.
So what are we to do or say? This is tough, because all we are doing is acknowledging the truth. How do we handle these situations, because they will keep on coming up and they are very difficult.
The first thing we need to do is to look at what we are trying to accomplish and how we would like to be in these type of situations so that we can move forward with some strength and dignity. We truly want to own up to our part, and want desperately to not feel as though we always have to be giving reasons for our behavior, but quickly, almost unconsciously responding with, "I forgot," even though it is a perfectly true, may not be the answer.
You are going to forget things.  Saying, "I forgot," might be the right thing sometimes, but see if you can find a way to move past "forgetting" so it doesn't become a way of being. Maybe you can, address how you are going to fix things, then move on and don't dwell on the fact that you forgot.
Respond to it by saying, "I forgot," if that's what feels right, but don't beat yourself up for it. Try not to make it symbolic of your whole life, post-TBI. Let it pass as easily as you can. Try not to make a funny remark about how you are always forgetting.
Although it is difficult, life after TBI needs to be about, "How do I move forward?", not, "See what this brain injury has done to me?" That's just not good for us. We want others to treat us with dignity, so we should treat ourselves with the dignity we deserve.
Whatever your response, it should be less about the past and assigning blame, and more about living in the present, while working to create a stronger future. Before you give that response, try and take a moment to think about how that response reflects on you as a human being. Treat yourself with the same dignity and respect you want others to treat you.
Thanks, Jeff